My Geezer Card
My husband, who's younger than I, was the one most excited about my 62nd birthday. It meant I could finally qualify for a "Geezer Card" or Senior pass for the National Parks and Federal Lands. He announced that this was going to be my birthday gift from him. Wow, they cost $10. The only problem was that one must obtain a Senior Pass at a National Park and we don't have one close to our home. So we had to wait until our next trip, which was to Georgia. On the way home, we detoured to the Eufaula National Wildlife Refuge in Alabama to get my card.
I went inside the building and told the Park Ranger I was there to get my "Geezer Card." He just smiled and asked me to have a seat in the conference room. He returned with a stack of cards in a rubber band and a form. He asked for my ID as proof of age (I got carded!), and $10. (Hmm, my husband was supposed to pay for this.) The ranger filled out the form and had me sign the back of my card. At that moment, I officially became a "Geezer!"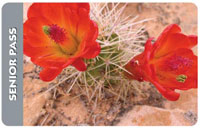 That night we used the card at a Corp. of Engineers Park in Tennessee. We saved $2 on our campsite. The next night, we saved $8.25 at Mammoth Cave National Park. To date, we are $.25 ahead. We are planning to track our savings over the years. It doesn't take much to entertain "Geezers."
http://www.nps.gov/findapark/passes.htm
...