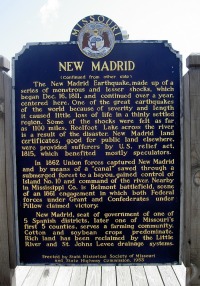 Yes, you do need earthquake insurance right here in the Ohio Valley. Why? Because we live within a couple hundred miles of a huge fault line – The New Madrid Fault.

According to Wikipedia, the New Madrid fault system had four of the largest North American earthquakes in recorded history, with moment magnitudes estimated to be as large as 8.0, all occurring within a three-month period between December 1811 and February 1812, and may have the potential to produce large earthquakes in the future. Since 1812, frequent smaller earthquakes have been recorded in the area.

Earthquakes that occur in the New Madrid Seismic Zone potentially threaten parts of seven American states: Illinois, Indiana, Missouri, Arkansas, Kentucky, Tennessee and Mississippi.[2]

The 150-mile (240 km) long fault system, which extends into five states, stretches southward from Cairo, Illinois; through Hayti, Caruthersville and New Madrid in Missouri; through Blytheville into Marked Tree in Arkansas. It also covers a part of West Tennessee, near Reelfoot Lake, extending southeast into Dyersburg.

Most of the seismicity is located between 3 and 15 miles (4.8 and 24 km) beneath the Earth's surface.

Normal homeowner's insurance policies have an exclusion for earthquake damage, but an earthquake damage protection rider is very inexpensive coverage to have.

Fran Evola, owner of Real Estate Unlimited, is always available to recommend insurance professionals who can assist you in protecting your assets. 812-288-6080
...